General information plus an introduction to ourfirm.




Address, maps & contact info forour office locations.




A basic overview of the primary areas ofour law practice.




Read about the latest site news, orcheck on upcoming events.




Vist our Environmental Issues site. Anotherservice of WN&J.




A comprehensive listing of our attorneys;plus contact & bios.




The latest Press Releases, Articles, Newsletters and Books.




Complete our form to receiveadditional information about us.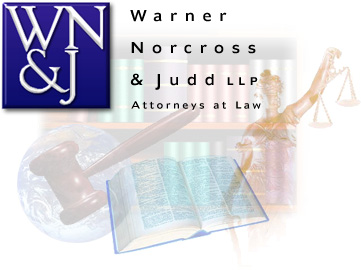 Copyright © 1998 Warner Norcross & Judd LLP. All Rights Reserved. The information provided on this site is not intended as either a solicitation of any particular prospective client, nor is it intended as legal advice. Please see our Disclaimer for more information.Design & graphics by Accent Design Studios.