---
Last Updated: 11/26/97 17:01:32
See and hear Venable's OnlineCyberlaw PowerPoint Presentation!
---
Venable is a full-servicebusiness law firm with five offices in theWashington/Baltimore metropolitan area. Founded in 1900 by three eminentBaltimore attorneys, the firm has grown to become one of the leading legalservice organizations in its market. Venable's attorneys cover a broadscope of services for the business client. Lawyers who concentrate in InformationLaw are particularly poised to assist clients on the Information Superhighway.
---

EmploymentOpportunities at Venable, including information on recruitment, availablepositions, associate training programs and more.
---
DISCLAIMER: The materials on this Website havebeen prepared by Venable for informational purposes only and are not legaladvice. This information is not intended to create, and receipt of it doesnot constitute, an attorney-client relationship. Internet users and onlinereaders should not act upon this information without seeking professionalcounsel. Do not send us confidential information until you speak with oneof our attorneys and get authorization to send that information to us.
This server contains more than 200 articleson a variety of legal topics. In addition to this electronic server, thefirm publishes a number of printed periodicals. Specific articles are indexedunder each of the firm's three practice areas .Articles from the following electronic publications are published here:
---
---
Currently featured articles on this server are:
WhoWill Pay for the Year 2000 by John F. Cooney.
Updateon the Year 2000 Computer Conversion Issue by John F. Cooney.
Onbehalf of Hewlett-Packard Company andCompaq Computer Corporation, Venable attorneys John Cooney, BillCoston, and Melissa Landau Steinman recently submitted a Brief Amicus Curiaein Support of the Petition for Writ of Certiorari in Osram Sylvania ProductsInc. v. Charles T. von der Ahe and Chroma Lighting. The brief urges theSupreme Court to take up the issue of whether an inference of injury tocompetition under the Robinson-Patman Act, which prohibits price discrimination,may be rebutted by evidence of healthy competition in the relevant market.The issue is an important one for manufacturers who distribute productsnationwide, and for their distributors and resellers.
TheNext Line Item Veto Case, by John Cooney, who appeared on CourtTV's "Washington Watch" on August 15, 1997. Hosted by Fred Graham,the program addressed the constitutionality of President Clinton's exerciseof the Line Item Veto and the likely contours of the lawsuits that willbe filed to challenge the President's first-even use of this new authority.
StateStreet Bank & Trust Co. v. Signature Financial Group, a brieffiled by John Cooney.
Bank Insurance Sales Spark RegulatoryRamblings by Ronald R. Glancz and Juliana Schulte O'Reilly.
High-Tech Delivery Channels--A Technicaland Legal Overview by Ronald R. Glancz and Juliana Schulte O'Reilly.
Intellectual Property Strategies ForDealing With The Government by Jerome S. Gabig, Jr. and Thomas J. Madden.
Government Ownership of IntellectualProperty Rights - A New Strategic Business Unit at Venable.
Past, Present, and Future RegulatoryGuidance on Evaluation of Past Performance by Thomas J. Madden. Alsoby Madden, New Protections for GovernmentContractor's Rights in Technical Data, Software and Trade Secrets.
A Year-End Review: New Laws in 1996 StrengthenIntellectual Property Protection for U.S. Companies by Gary M. Hnath.
The Nocebo Effect: A New Weapon to DefeatCausation? by James K. Archibald and Scott A. Zebrak. (revised 6/19)
"A View from the Private Bar,"by William L. Walsh, Jr., discusses issues and shortcomings surroundingfederal contract protest bids today.
Cryptography, Smart Cards, and Future BankingTechnology by Randy V. Sabett.
"Rocket Docket" -- Patent Litigationin the Eastern District of Virginia by George F. Pappas.
Insurance? It's in the Bank: Victoriesbefore courts and regulators are causing banks to broaden insurance activitiesby Ronald R. Glancz and Juliana Schulte O'Reilly.
Criminal Enforcement in a DecentralizedEnvironment by John F. Cooney and Judson W. Starr.
Design-Build Selection Procedures Enactedas Part of the Defense Authorization Act of 1996, by David G. Lane.
Venable's IT Procurement update bythe Government Contracts Practice Group.
An article on Is "Full and Open Competition"Already Dead? Commercial Practices in the Federal Government's InformationTechnology Procurements by Thomas J. Madden and Charles R. Marvin,Jr.
Software Development: Contracting ForSuccess , a presentation at the 7th Annual Department of Defense SoftwareTechnology Conference, by Jerome S. Gabig, Jr. Also by Jerry, TheNew DOD Clauses on Rights in Technical Data and Computer Software .
An article on When Local Exchange Competition Calls:A Survey of Competitive Local Exchange Access Issues by Robert A. Beizerand Emried D. Cole, Jr.
Ronald R. Glancz, Linda Lord and Melissa Landau Steinman's articleon "The Statute of Limitations in D& O Liability Suits"
---
Venable Website Wins Technical and Content Awards!!
Venable was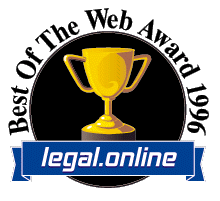 honored as one of the Best of the Web among law sites by LegalOnline

Venable won the Third Annual SiliconWebbernaut Award given out by Web Counsel, LLC, for the Best Law FirmWebsite that demonstrates use and understanding of the Internet and itstechnology. (We also won the award the first time it was given in 1995!)




The Venable site has also been chosen for the "Premier Site!"award byVentana Press and is listed in the 2nd edition of their Walkingthe World Wide Web

Venable'sNII Reporter and the Workplace Labor Updatewere reviewed and recognized by TheMcKinley Group . Reviews of articles on our server can be read by searching"Venable" at their Website.
Venable is also indexed and reviewed in ABusiness Compass

Venable uses a WebSite(TM) WWW server

topublish our materials.

Further information on this server, ourfirm, its organization and its goals is available.
Web server statistics for 1994, 1995 , 1996and 1997 are now available.
---
Please check in often as the publications on our server change frequently.New articles are added and existing articles are updated.
We have installed a feedback questionnairefor your use. If you have a forms-capable browser, please take a minuteto let us know how we can make this server more useful to you.
For further information on Venable send your email to: info@venable.com
---
Here's the path to the VenableIndustries, Inc. homepage if you landed here by mistake. Please notethat there is no connection (except -- perhaps-- a distant genealogicalone) between that company and the Venable Law Firm
---
Page Accesses: 124346
Last accessed by 207.172.128.112 on 12/06/97 at 13:16:43
Current visitor:153.36.79.150