Welcome to the Home Page of: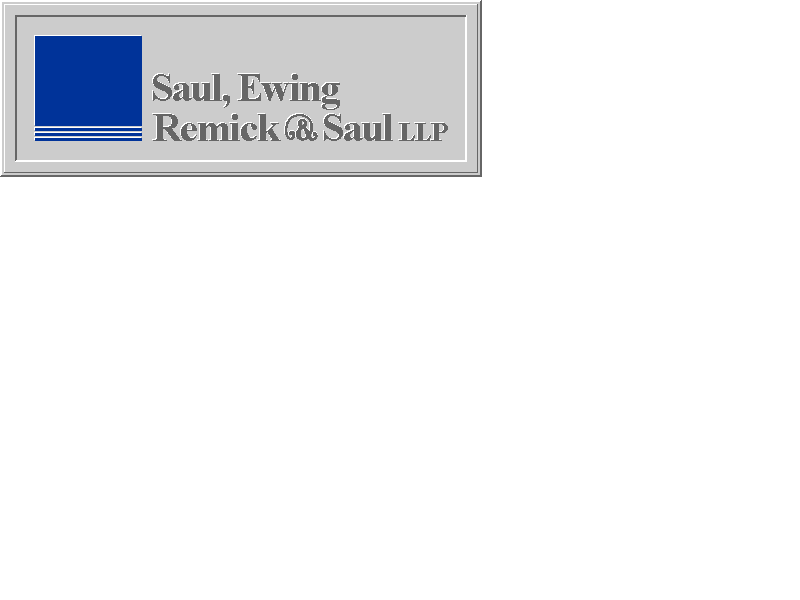 Would you like to view a 2 minute Presentation about our firm?
---
Saul, Ewing, Remick & Saul LLP is a major Law Firm with Offices in Philadelphia, Harrisburg and Berwyn, PA, Wilmington, DE, Princeton, NJ, and New York, NY.
We are also a Founding Member of The Interlex Group, a worldwide affiliation of law firms serving international clients, with member firms in Australia, Austria, Belgium, Brazil, Canada, The Channel Islands, China, The Czech Republik, Denmark, Finland, France, Germany, Hungary, Indonesia, Ireland, Italy, Japan, Korea, New Guinea, The Netherlands, Nigeria, Norway, Poland, Portugal, Romania, Russia, Singapore, South Africa, Spain, Sweden, Switzerland, The United Kingdom, The United States and Vanuatu.
Saul, Ewing believes in maximizing the use of cutting-edge technology to deliver prompt, efficient and effective service to clients. As part of that effort, we have established this domain on the World Wide Web to provide clients and others with access to current legal information on the Internet.
---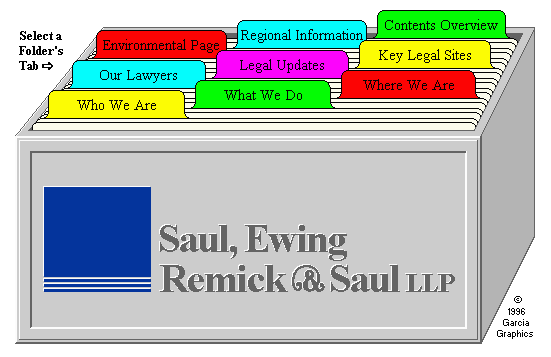 If you can't use imagemaps, select from the following topics:
| Who We Are | What We Do | Where We Are | Our Lawyers | Legal Updates |
| Key Legal Sites | Environmental Page | Regional Information | Contents Overview |

Here's What's New at Our Firm.

Do You Have a Legal Question?
Our Email Address is lawyers@saul.com.
(Click to send message now, or jot down address for later use.)
---
Click here for information about this Home Page.
The URL for this page is http://www.saul.com.

© 1997, Saul, Ewing, Remick & Saul LLP
PLEASE NOTE: The materials at our site have been prepared for informational purposes only and should not be considered legal advice. Our provision of this information is not intended to create, and receipt of it does not constitute, a lawyer-client relationship. Nor should this site be viewed as an offer to perform legal services in any jurisdiction other than those in which we are licensed to practice, as set forth in the individual descriptions of our lawyers. You should not act upon any information provided over the Internet without seeking professional counsel. You also should not disclose any confidential information in communications with us until we can determine that we would have no conflict of interest in representing you.