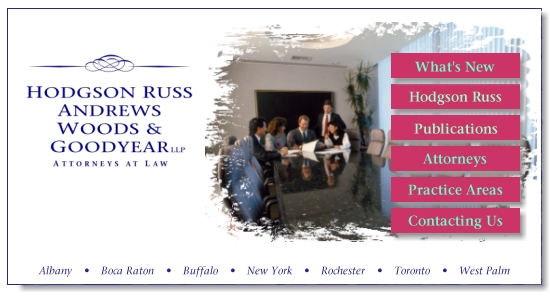 WELCOME to www.hodgsonruss.com - Hodgson, Russ, Andrews, Woods & Goodyear, LLP. Hodgson Russ publishes this Web site as a service to our clients and friends. It is designed to provide current information about Hodgson Russ, our services and our lawyers, as well as articles and commentary on legal topics of general interest. You should not act upon this information without consulting us or other professional advisors. No Attorney-Client Relationship will be established by sending E-mail to Hodgson Russ.

NEW!NEW!

Now featuring attorney profiles
and the Community Involvement Report for our Boca Raton, Florida office.

This site last updated:
November 21, 1997

Best experienced with
Netscape Communicator

Click here to start.

Buffalo, New York

Questions and/or comments about this site? Please write to webmaster@hodgsonruss.com


©1997 Hodgson, Russ, Andrews, Woods &Goodyear, LLP.
This material may be considered advertisingunder the rules of certain jurisdictions in which Hodgson Russ lawyers practice (such asin Ontario, where we are licensed foreign legal consultants, and in the State of Florida.)
The hiring of a lawyer is an importantdecision that should not be based solely on advertisements. Before you decide, ask us tosend you free written information about our qualifications and experience. (Thisdisclosure is required by The Florida Bar.)